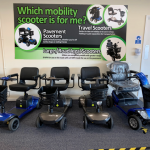 Mobility Scooter Travel
24th June 2021
If you have recently acquired a mobility scooter and you aren't experienced in driving it on the roads, here are some tips for you on how to drive your scooter safely:
Don't take your scooter out until you've had enough training or practice to feel confident.
Be aware of your surroundings – watch out for other pedestrians and vehicles.
Turn your scooter off when you're not moving. Bags and clothing can easily catch on the accelerator lever.
If going up slopes or kerbs, make sure you stay stable on your mobility scooter.
Familiarise yourself with the relevant parts of the Highway Code, particularly if you'll be using a class 3 scooter on the road.
See the Department for Transport guide Mobility scooters and powered wheelchairs on the road – some guidance for users
Safety checks
It's important to keep your mobility scooter well-maintained. Repairs and maintenance are included if you get a scooter through Motability. Check with the retailer if you're buying privately.
To make sure that your scooter is safe to use, regularly check that:
All plugs and wires are connected properly.
No bare wires are exposed.
Tyres are inflated to the correct pressure (if necessary).
All locking pins and assembly mechanisms are locked.
The seat is adjusted and locked in place.
The battery is fully charged.
The brakes are in working order.